Dubrovnik Best View – Enjoy your wildest adventure
You know how, for some things, if you did not record them, it seems like they did not happen?
Well, that's what you could say for visiting Dubrovnik and not bringing home best selfie, the only selfie you needed to take. The one from the Mount Srd, with the fantastic view on entire Old Town. But if we already mention it, we must introduce you to the most wonderful way to get one.
The best, most beautiful and definitively the wildest one, the kind you really don't need the proof for yourself, memory will last in your blood forever, but for others. For them to be jealous on the best selfie of Dubrovnik, on sunset, with your sincere, smile from the heart. And a face with mud all over it!
The mud! Oh, yes! Since we are talking about best way you can unite your 'selfie touristic job', touristic sightseeing and adventure.
So, since you're already planning to get to Mount Srd, enjoy the drive with cable car, but, as much as that ride is legendary by itself, iconic adventure is waiting on the end. Behind Imperial fortress is the start (and end) point of great Buggy Safari.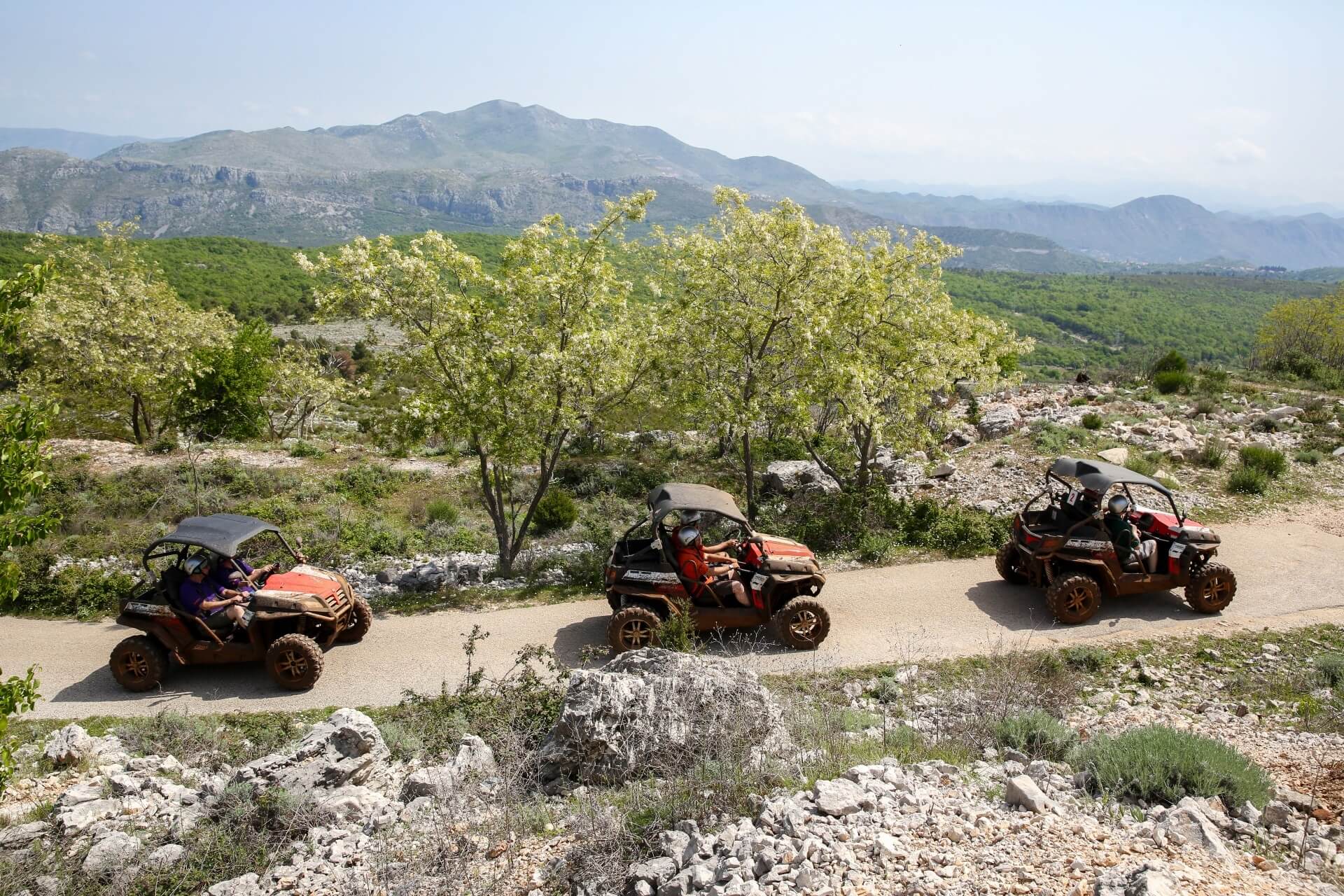 Wild short scenario
The expedition starts in small groups and each group is obliged to follow an experienced guide. The Buggy vehicle is a two-seater, it has an automatic transmission and is very easy to operate so anyone can ride a car, without previous experience, but the driver must still have the A or B driving license!
It's not an desert or cowboy like, but a Mediterranean style, a ranch buggy tour that will take you through the typical Dalmatian rocky ranch. And giving you best views of tipical Dalmatian hinterland.
Driving throughout nature on a rocky, macadame road, meeting animals, and having a great time surrounded with meditterenian 'forest' and intoxicating smells of wild herbs like wormwood, sage and rosemary …
Riding through the village will take you to the "hidden belvedere gem".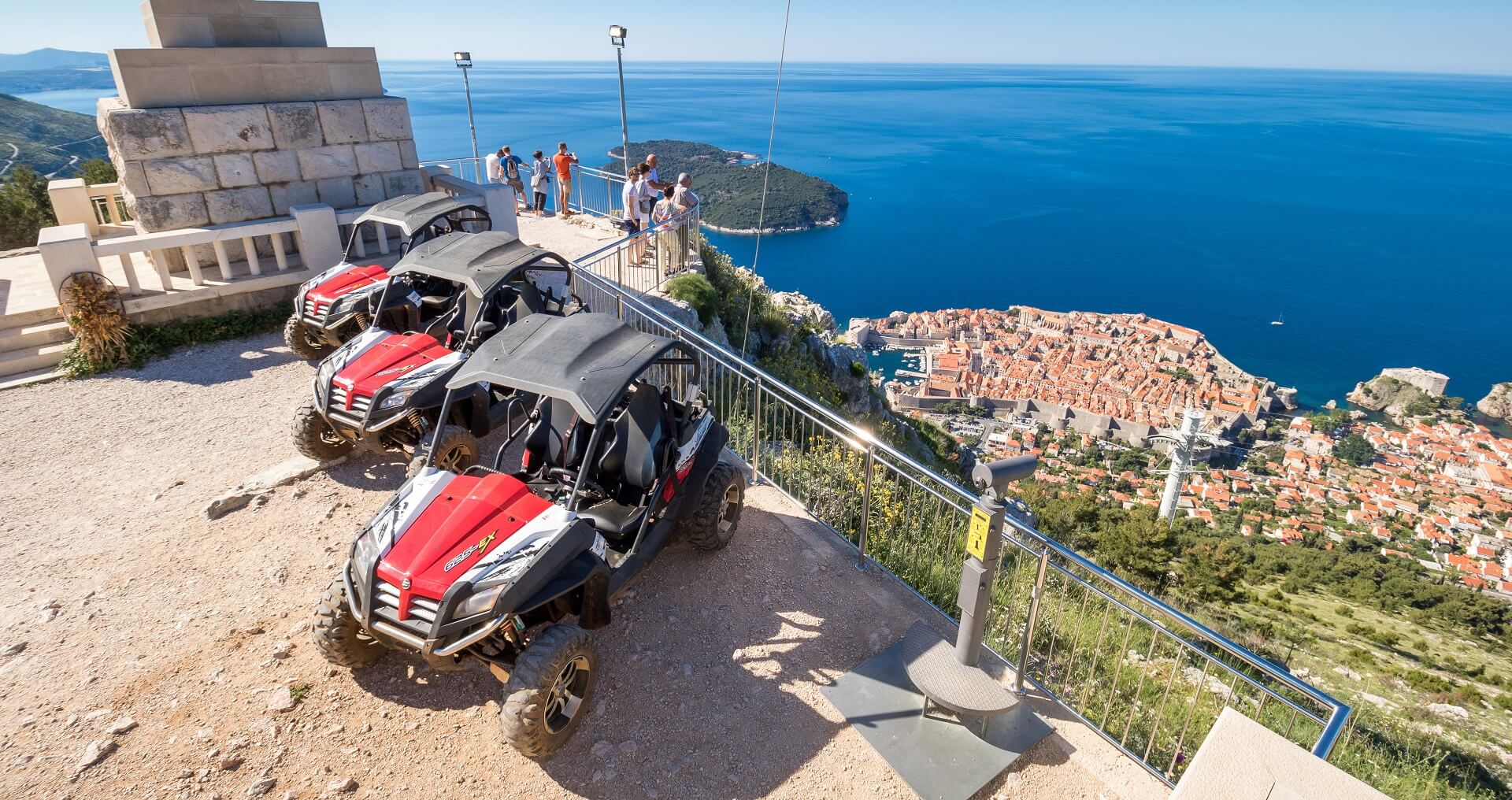 Best view? Best views!
The highlight of the adventure is coming to the Strinčjera Fortress with beautiful view on the slopes of Mount Srđ. The highlight of the adventure is the rarely seen view, (trust us, the best view of Dubrovnik area), oriented toward west at the Elaphite Islands.
After selfie time, with the look on Elaphites and most radiant smile dominated on photo, you will get picture that will immidiately became a social media star.
Off-road Buggy safari adventure ends the hour after departure at the starting point, in front of the Imperial Fort.
If you need additional advice:
Take the tour so you can adjust it with sunset, for best of the best views of Dubrovnik, at the end of the happy, adrenalin adventure, for one more best selfie in you collection.
Technical details:
– driving licence (B category) is required
– minimum necessary height for driver is 150 cm
– children (up to 18 years old) can ride only in parents supervision and must be at least 120 cm tall for security reasons
– it is recommended to wear older or easy-washable clothes
Duration time: approximately 1 hour
Buggy Safari Dubrovnik package includes: Buggy, fuel, helmet, goggles, guide and bottle of water